ABOUT FORTUNE AGRO NET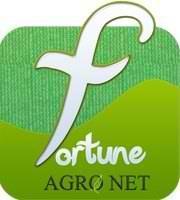 Fortune Agronet was established in the year 2000. Today we are an acclaimed manufacturer, exporter and supplier of high grade Agricultural She Nets and Industrial Shed Nets in variety of designs, colors and patterns in sync with the international quality standards. These nets allow the farmers to protect the crop from different unexpected calamities. Our range of Agricultural & Industrial shed Net Includes Agricultural shed Net, Industrial shed Net, Agro shed Net, Farm Shed Net etc.
Fortune Agronet is the fastest growing & shed net manufacturing company in gujarat,with a vast experience of consistent 12 years.
In terms of technical skills our experienced term of professionals are engaged in development & manufacturing of all vertices of plastic net inorder to move up th field of agriculture in india.
Quality is the prime concern of our organization and this quality comes from the German technology used in our knitting machine. We conduct strict quality test at every level of production right from raw material to finished product.
OUR COMPANY PROFILE
Business Type
Manufacturer
Export Percentage
30%
Primary Competitive Advantages
Excellent quality
&nbsp &nbsp &nbsp &nbsp &nbsp Timely delivery system
&nbsp &nbsp Competitive pricing
&nbsp &nbsp &nbsp &nbsp &nbsp &nbsp &nbsp &nbsp Total customer satisfaction
Year of Establishment
2000
No of Production Lines
10
Production Type
Knitted Fabric
No of Engineers
2
No of Designers
1
Monthly Production Capacity
10 to 12 Lack sq. mtr.
Product Range
8 Quality Range